I'm not gonna spend a lot of time waxing poetic about these set of 1970s Cl Tjader recordings on Fantasy. I've been really working on filling out my Tjader discography as of late and when going through all of his albums, I'm really drawn to this period of his work. After the
Skye record label
that he founded in partnership with Gary McFarland and Gabor Szabo, he returned to his original record company, Fantasy. I feel like this blog post is a aural response to the
wikipedia entry for Tjader
that subtitles his 1970s output as the "Lean Years." His early seventies Fantasy output is consistently excellent with his top notch band really stretching out into longer cuts with electric piano, stellar percussion work and some well chosen cover tunes from a wide range of sources, including Tito Puente, The Rolling Stones, Donovan, Joao Donato, as well as revisiting some of his older recordings in this funkier format.
Cal Tjader - Ran Kan Kan
A great take on a classic Tito Puente jam. We already listened to two tracks from this album on a
previous Soul Spectrum post
.
Cal Tjader - Mambero
This album might just be my favorite Tjader album. He does to awesome Donovan covers (who would have thought?) and this smoking latin jam. I usually avoid anything with a reference to "Mambo", but this track is a monster!
Cal Tjader - La Murga Panameña
A killer take on the Willie Colon classic from around the same time. And while I don't have the album jacket with me now to check, this album features some arrangements or production from none other than Tito Puente. The whole album finds Tjader really embracing the burgeoning New York Salsa sound, and keep in mind this album came out close to the birth of this scene in 1970.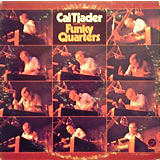 Cal Tjader - Manteca (Live)
Tjader recorded no fewer than three live albums during this period, this being the first. On this cut he reinterprets an older tune of his and really stretches out with his band. Al Zulaica on electric piano, as he is one many of these albums.
Cal Tjader - Never Can Say Goodbye
On this album it seems as if Tjader is trying his best to match the sound and feel of the contemporary CTI recordings. He features a fuller band with guitar, strings and some poppy tunes. This album does sound a bit "lighter" than the others from the same "lean years" era, but I find the arrangements and song selections to be tasteful and really fun to listen to.
Cal Tjader - Amazonas (Live)
I couldn't post Tjader without a nod to his sometimes bandmate, friend and collaborator, João Donato. This is Tjader's extended take on the Donato classic.